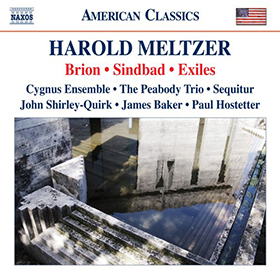 Meltzer: Brion - Sindbad - Exiles
Cygnus Ensemble, James Baker, Gregory Hesselink, Elizabeth Farnum, John Shirley-Quirk, Peabody Trio, Richard Lalli, Paul Hostetter & Sequitur
Release Date: 10/26/2010
Label: Naxos
The works on this disc are representative of Harold Meltzer's unique sensibility, profound imagination and inquisitive musical mind, quickened both by the things of the world and by a wide range of music, including the works of Franco Donatoni and the Stravinsky of Agon. Brion was praised by the 2009 Pulitzer Prize jury as 'a graceful, sensual and contemplative experience', the 'inexorable emotional power' of Two Songs from Silas Marner impressed The New York Times, The Oxford Times described Sindbad as 'a startling and deeply interesting modern work', while The Boston Globe declared that 'Exiles goes immediately onto this year's must-hear-again list.'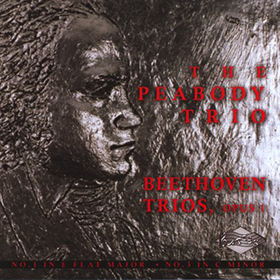 Beethoven Trios, Op. 1
The Peabody Trio
(Violaine Melancon - violin, Natasha Brofsky - cello, Seth Knopp - piano )
Release Date: 08/28/2007
Label: Artek
For those unfamiliar with this fine group (formed in 1989), it should be noted that it is currently the "resident ensemble" at the Peabody Institute. This CD marks its second in what apparently is to be a cycle of these trios, the previous one, which I have not heard, being devoted to the op. 70 pair. In the main, the Peabodys are very much attuned to the spirit of these bold assertive scores that suggest the young lion composer flexing his muscles and asserting himself with a freshness that, for all its individuality, never turns its back on tradition. Outer movements crackle with energy, slow movements are never unduly expansive, and the ensemble, as one would expect, is technically adroit. Refreshing, too is Seth Knopp's Hamburg Steinway, a less brilliant and brittle instrument than its American counterparts, yet one that, owing to the pianist perhaps, seems a tad closer to the piano of Beethoven's day. The only trait one might object to consists of a few instances of breath pauses—perfectly appropriate in the hall, to be sure—but possibly wearisome when heard repeatedly. In this regard, the accounts of the Parnassus Trio, often similar to these in many respects, may, in their freedom from such features, have more staying power. Both versions are first-rate. Like the Parnassus, the Peabody observes all exposition repeats. Incidentally this release benefits from one of Manhattan's better kept secrets, the superb acoustics of the auditorium of the American Academy of Arts and Letters, a favorite venue of the widely respected producer Judith Sherman, who oversaw this release.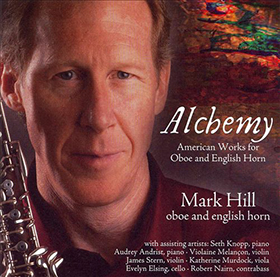 Alchemy: American Works for Oboe and English Horn
Release Date: 12/26/2006
Label: Albany Records
This elegantly rendered disc of chamber music can be recommended to audiences beyond the primary ones of oboe and English horn players. Having these instruments as a common element among the half-dozen highly diverse pieces presented can help the listener get a handle on some of the thornier styles of the twentieth century, especially inasmuch as soloist Mark Hill brings equal enthusiasm and even a welcome touch of humor to each of the pieces on the disc. The music exemplifies an unusually wide variety of styles. George Heussenstamm's Alchemy for solo oboe, Op. 60, is a contemporary virtuoso piece in the Berio vein, demanding that Hill both master extended playing techniques and accompany a track he has already recorded. The Mandala for oboe and piano of Dana Wilson does not quite deliver the circular structures promised, at least not to the degree that a listener uncoached by booklet notes would hear them. But the seemingly antiquated medium of electronic tape yields one of the album's most attractive pieces: Greg D'Alessio's Reflections on a Song for English horn and electronic sounds achieves an enjoyable synchronicity between the lyrical English horn lines and the busy electronics. John Corigliano's Aria for oboe and string quartet, arranged from a movement of his early oboe concerto, serves as a pleasant interlude before the serialist Sonata for oboe and piano, Op. 17, of Gunther Schuller. It is hard to hear the jazz influence that is claimed for this work, but its clear three-movement classical structures leave the listener free to concentrate on the tonal aspect. (The booklet notes by Bonnie Jo Dopp are informative but needed proofreading: surely a writer claiming that a listener can follow the precise permutations of a tone row ought to spell Schoenberg correctly, to say nothing of Schuller.) The Adagio in E flat for oboe and string quartet by Tison Street makes a wonderful, long-breathed conclusion in a very Mahlerian-lyrical vein. The sound offers nothing to interfere with the listener's perceptions of a nicely rounded program.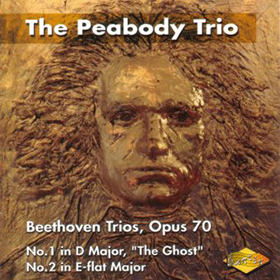 Beethoven Trios, Op. 70
The Peabody Trio
(Violaine Melancon - violin, Natasha Brofsky - cello, Seth Knopp - piano )
Release Date: 07/27/2004
Label: Artek
In 2004 the Peabody Trio released their recording of the Beethoven Opus 70 Trios-the dramatic Ghost trio and the lyrical Opus 70#2-to great critical acclaim.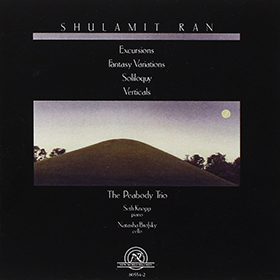 Music of Shulamit Ran
The Peabody Trio
(Violaine Melancon - violin, Natasha Brofsky - cello, Seth Knopp - piano )
Release Date: 05/28/2002
Label: New World Records
Shulamit Ran was born in Tel Aviv, Israel. Her early compositional studies began with Israeli composer, Alexander Uriah Bosckovich, from whom she learned harmony, counterpoint and orchestration. Perhaps he is in part responsible for Ran's intricate and cerebral rhythmic sensibility - for her orchestrational study started with the percussion section. She also studied with Paul Ben-Haim, Israel's most important composer at that time, before moving to the United States with her mother at age 14. Awarded a full scholarship from the Mannes College of Music in New York, and the American Israel Cultural Foundation, the young composer worked with Norman Dello Joio at Mannes while simultaneously completing her high school education by correspondence. Her principal piano teachers were Dorothy Taubman and Nadia Reisenberg. Upon completion of degrees in piano performance and composition in 1967, she toured extensively and played her Concert Piece for piano and orchestra in 1971 with the Israel Philharmonic. It was shortly after this point that her music came to the attention of Ralph Shapey, composer and new music apologist at the University of Chicago. The UC music department offered Ran a faculty position in 1973 - before she had even interviewed. She is still employed at the University of Chicago, teaching composition and chamber music. In 1990, Daniel Barenboim appointed her composer-in-residence for the Chicago Symphony Orchestra; a position she held for seven seasons. In 1991, she was awarded the Pulitzer Prize in music.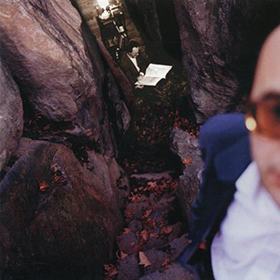 Currier: From the Grotto
The Peabody Trio
(Violaine Melancon - violin, Natasha Brofsky - cello, Seth Knopp - piano )
Release Date: 02/27/2001
Label: Composers Recordings, Inc.


PDF Booklet